How "Stranger Things" Tapped Perfectly Into The Millennial Market
Updated: Aug 15, 2018
The Netflix Original series "Stranger Things" is an instant Netflix classic. In two seasons, it has found its way to steal the show at both the Emmy's red carpets and in our hearts. As a communicator, I naturally ponder: Why? What is it about the show that makes it so lovable?
As I started watching the series, I started realizing that the show developers must have just trolled on Tumblr for things that internet-addicted teens and twenty-somethings loved. Each character, theme, music, actor, and story arc reminded me of things that my friends and I (college-aged millennials) love. Here are my top reasons for my millennials go nuts for Stranger Things:
Every layout comes with the latest social features built in. Readers will be able to easily share posts on social networks like Facebook and Twitter, view how many people have liked a post, made comments and more. With the Wix, building your online community has never been easier.
1. The 80s music
We love 80's music. So much that we make music that sounds similar to it. All of the 80's throwbacks make this show relatable and enjoyable.
2. Paranormal Activity
For some reason, we love getting the life scared out of us.
3. 80s High School Movie Themes
We also love throwing it back to the 80's and the teen heartthrobs. It takes us away from the failing current political, social, economic climate of our country :)
4. Little Kids
5. Mystery
We love mystery for the same reason we love throwing it back to the 80s. It makes us forget about our significant cheating others, student loans, homework, and tear-stained pillows.
6. The Character Dynamics
We love rooting for an unsuspecting character to come out as better than we thought they were.
7. The Binge-Ability
Eight. Short. Episodes.
8. The Easy Halloween Costume
Who didn't wear these costumes?
9. The Originality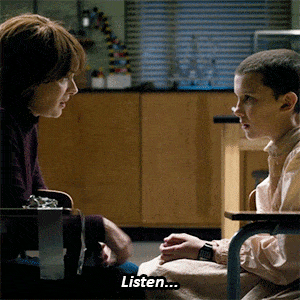 This series is downright original. It's not another comic book hero, vampire, or zombie.
9. The Friendship
Because above all, we love our friends.
This post originally appeared on Buzzfeed.